If there is one literary character that most music geeks, vinyl aficionados, DJs, and mixtape lovers seem to identify with, it is Nick Hornby's Rob Gordon. The protagonist of High Fidelity, lives his life by the lessons he has learned from Pop music. Everything in his life, is a Top 5 list including romantic interludes. Rob's credo…what really matters is what you like, not what you are like… Books, records, films—these things matter. Hornby's' novel was published in 1995 with the John Cusack starring film version to follow in 2000. What about today though? With so many of us identifying with Rob Gordon, who is our voice of today? How about another Rob?
Rob Sheffield, a contributing editor at Rolling Stone, Spin and Details, and guest on various VH1 and MTV shows, may just be that voice. Sheffield was born in 1966 with his teenage years in the heart of the 80's. From 2007-2013 Sheffield released 3 books that will speak to the pop culture fan, music geek, mixtape maestro and hopeless romantic in all of us.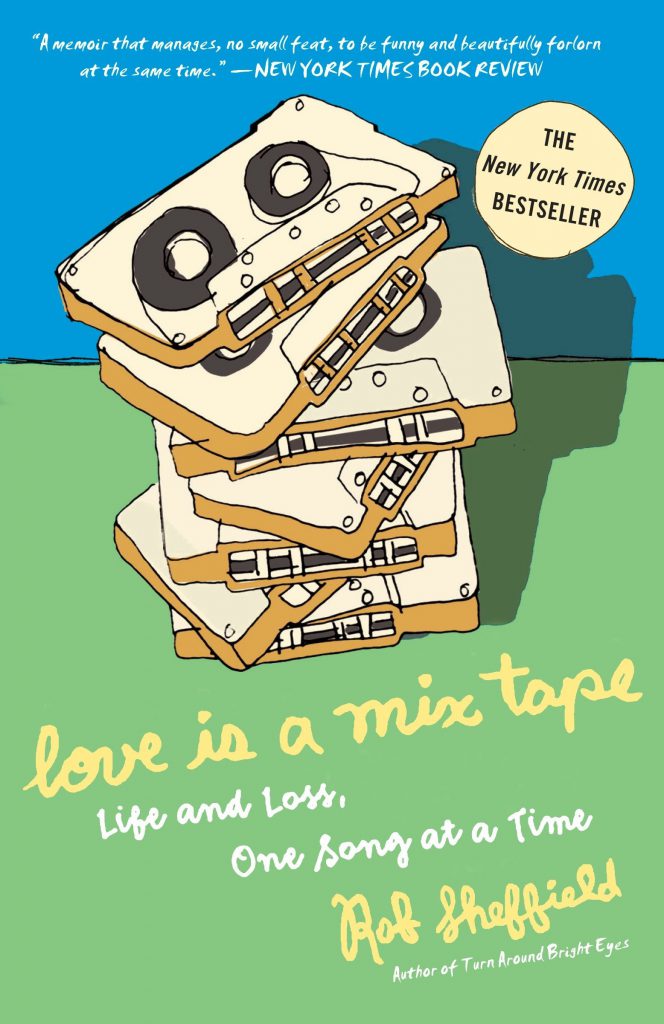 His first book was 2007's Love Is A Mixtape: Life and Loss, One Song At A Time. The book alternates between hopeful and lighthearted to tragic and heartbreaking. At its core, Love Is A Mixtape is a boy meets girl story of a "skinny Irish-Catholic geek from Boston" and a "real cool Appalachian hell-raising punk rock girl". Sheffield ponders whether it is superficial to choose a mate based on the music you love (how many of us have been guilty of this?).
For Rob mixtapes are essential to his life In fact he believes that humans have a fundamental need to pass music music around, however the technology evolves. For Rob, it was the mixtape, but there are so many different kinds of mixtape with different meanings:
The Party Tape
The I Want You Tape
The We're Doing It? Awesome! Tape
The You Like Music? I Like Music! I Can Tell We're Going To Be Friends Tape
The You Broke My Heart And Made Me Cry and Here Are 20 or 30 Songs About It Tape
The Road Trip Tape
The No Hard Feelings, Babe Tape
The I Hate This Fucking Job Tape
The Radio Tape
The Walking Tape
In Sheffield's mind, every mixtape tells a story – put them together and you have the story of a life. Rob's life began in earnest in 1991. Painfully shy, lonely and miles from home while attending graduate school in Charlottesville, Virginia, he met Renee. Renee was everything that Rob was not but in his own words:
"Sometimes you meet someone out of your league, a take charge adventurous person…some of us are Gladys Knight and some are Pips."
That was Renee and Rob was a happy and willing Pip to her Gladys. They bonded over a love of music and mixtapes, courted via mixtapes and eventually settled down to a married life where every evening at home or drive in the car was accentuated by a mixtape. Each chapter features a different mixtape from that point in their life, with the actual tracklist prefacing the chapter.
Most of the book is a charming and sweet look at Rob's life until meeting Renee and a chronicle of the 5 years of marriage. Unfortunately, this is where the Life and Loss part of the title comes in. In 1997, Renee suddenly and tragically suffers a fatal pulmonary embolism. Rob, who was grappling with how to be a husband is suddenly faced with the trials of how to be a widow at age 31.
As Sheffield references the elder statesmen (and stateswomen before him), Love Is A Battlefield. Love Is A Tender Trap. Love Is Like Oxygen. Love Is A Mixtape.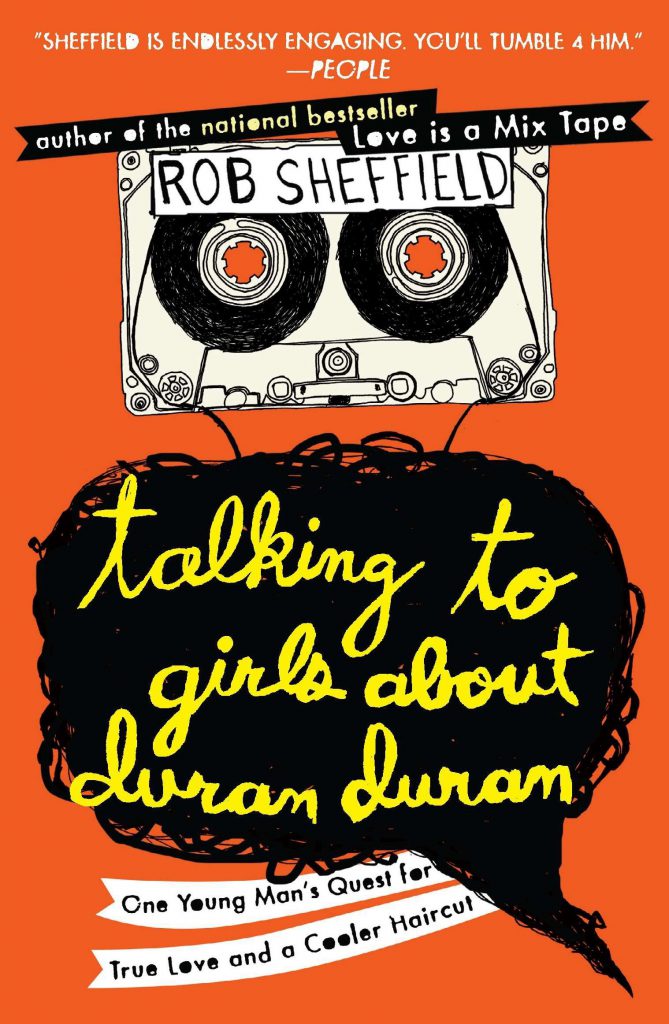 Three years later, in 2010, Sheffield returned with his 2nd book: Talking To Girls About Duran Duran – One Young Man's Quest For True Love and A Cooler Haircut. This book is an unabashed love letter to the 80's and especially its Pop music.
Growing up in a Irish family as the older brother to Irish sisters, set Rob on an interesting course. He was definitely more 'one of the girls' than 'one of the guys'. While his goal was nothing more than to meet girls, he had a keen behind the curtain look. Girls danced to music differently from guys. They listened to music differently from guys. Most importantly, they talked about music differently from guys. At the forefront of this, was the obsession that girls had with a certain quintet of New Romantics from Birmingham, England.
This book is a hilarious look at a clumsy and shy adolescent in love with pop music and in love with girls, looking for one to love him back. Each chapter references a year and a particular 80's classic which sets a theme for the next several pages. The gamut runs from Enola Gay (OMD), Ask (The Smiths), Pretty In Pink (The Psychedelic Furs) and Left Of The Dial (The Replacements) to A Woman Needs Love (Ray Parker Jr), Maneater (Hall and Oates), Our Lips Are Sealed (The Go-Go's) and Crazy For You (Madonna) to Funky Cold Medina (Tone Loc), Hangin' Tough (New Kids On The Block) and Cars With The Boom (L'Trimm).
These songs formed the soundtrack of Sheffield's adolescence but no band played a bigger part than Duran Duran. Learning about women and how to love and talk to them about their favorite band leads to some foreshadowing of the woman he dedicated this book to, Ally Polak, who we will learn much more about in Rob's next book.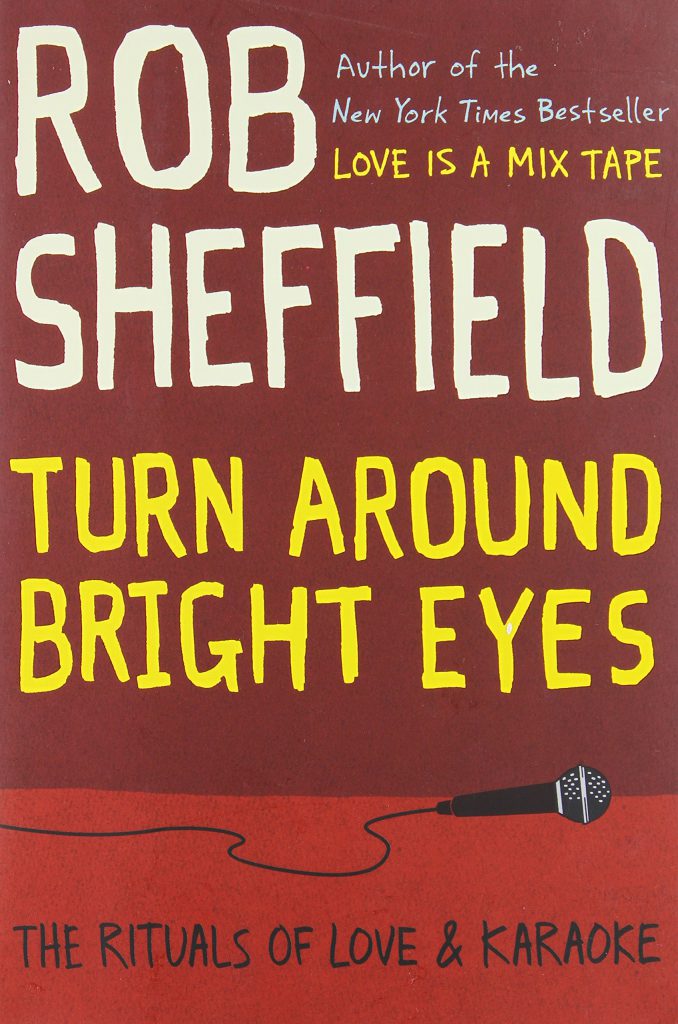 In 2013, Sheffield released Turn Around Bright Eyes: The Rituals Of Love and Karaoke. In it, he turns the title song on its head, where once upon a time he was falling apart, now he's only falling in love.
Early on in this story, Rob was still reeling from the tragic loss of his wife Renee He moved to NYC in 2001 to escape his grief. Living in the actual shadows, of the World Trade Center, just a few month later, he shared in the mass grief of the city in ruins around him.
Trying to find a way to cope, Rob was working on opening up emotionally once again. Essentially, singing his life, but according to Sheffield, singing your life is emotionally dangerous. To step right up to the microphone and name all the things that you love, renders you vulnerable For a music obsessive with no talent to sing or play, for one who had been labelled a 'hard trier', a 'good sport' and at least once, 'vocal Chernobyl', karaoke changed everything.
Among a rag tag group of rockers, rappers, disco cowgirls and smoothed out crooners, Rob found his voice again and learned something true and vital about karaoke. It allows us to be whomever we want, but in the process we end up becoming the most sincere version of ourselves.
As with all of Sheffield's books, Turn Around Bright Eyes is at times hilarious and at times heartbreaking. However, it is always sincere and we find a lot of ourselves in Rob Sheffield. We feel his passion for music, we cheer for his love of well…love, and we laugh and cry thought his ups and downs.
Music and especially karaoke led Rob to his second wife, Ally Astrogrrl (Polak), a DJ from the town he left, Charlottesville, Virginia. We know this from the beginning, but like always, it's not the ending or plot, but the story itself that pulls us in…the magic of music, through tragedy and love, that shapes many of our lives.
---
Support Strangeways Radio on Patreon.
---