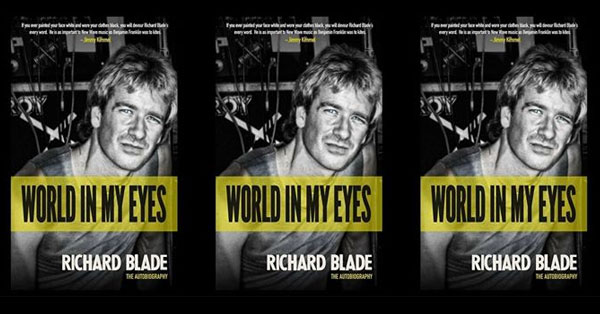 Rock Bios are a dime a dozen. Since I happen to have a dime, I might just write a dozen of them, because frankly, I love them.  Stay tuned for those. What is a rarity though, is the DJ who himself or herself BECOMES the rock star.  Ladies and gentlemen…may i present, Richard Blade.
You may know Richard Blade from Sirius XM's First Wave (if not, you SHOULD), You may be thinking, hey….didn't he put out some pretty stellar flashback CDs?  Why, yes he did!  But what is his story?  Where did he come from and why do we care?  Let me tell you, my friends, his story is fascinating and it is detailed in his autobiography, World In My Eyes.
Myself, I knew Richard from Sirius XM as well as the aforementioned compilation CDs.  I also knew that he made a name for himself in LA in the 80's at famed Alt Rock FM station KROQ.  I heard him mention his book on Sirius XM and I thought to myself…ok DJ, what makes you so special?  You just played the music like any of us music loving DJs out there, right?  What makes your story so compelling that it deserves a book?  I was intrigued enough to find out so I picked up a copy.
One of my pet peeves with Rock bios can be going way too deep into the artist's early years.  Yea, like we want to know the background but I don't always need to know if his bedroom was down the hall from Grandma, and he got middling grades on his O-Levels for the first 100 pages.  With World In My Eyes, this was not a fault but a strength. Richard's life story is simply interesting, no matter what era.
Most of us have one dream or life goal.  The very lucky among us achieve that goal.  At age 10, young Dick Sheppard wrote out 10 goals for his life. Spoiler alert: over the course of the book you will join him in his adventures as he quite literally achieves all 10.
Live somewhere sunny
Swim with the fish in warm water like Jacques Cousteau
Travel the world
Be famous
Be on television like Blue Peter
Meet my favorite singers
Have a beautiful girlfriend
Be in a movie
Write a book
 Be Brave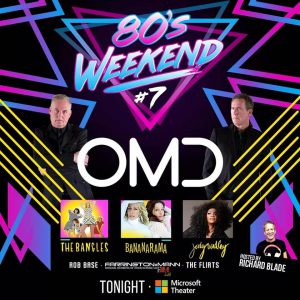 Richard takes his earliest adventures to a world i didn't really know existed.  He followed his dreams early, leaving his England home to be a club DJ in the early 70's. What this actually meant was travelling across Europe, crashing with any host he could find and doing month long residencies at clubs before being shuffled off or even traded to the next club 1000s of miles away in remote Scandinavian cities nobody had even heard of.  Yet, he made a name for himself.  Such a name that he was able to achieve his next set of dreams.
Moving on from the Discos, he established himself as an FM Rock DJ and was able to move to not only the USA, but the sunny confines of California!  You would think a reader would be itching to get to the celebrity stories and the time when Richard would become the King of New Wave that we all know and love.  I will admit that it's quite literally halfway through the book before Richard lands at KROQ on June 15, 1982, but i will promise you that there is nothing boring about the journey to this point.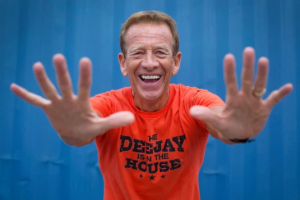 From here on though, Richard regales us with stories of the songs that meant the most to him personally, and the tracks he was quite literally responsible for breaking in America.  Through hosting his many video shows and his radio gigs, Richard became a rock star himself.  A fascinating story involves his love affair with Terri Nunn of Berlin and to his credit, Blade presents the whole story, warts and all.  Another spoiler alert….he totally screwed this up!  I mean really bad.  Other amazing tales place Blade in the middle of Depeche Mode frontman Dave Gahan's suicide attempt and eventual recovery, on the road with Spandau Ballet, and onstage with Duran Duran at Live Aid for a first person perspective one of the most thrilling musical events of our generation.  One of my favorite stories involves his lifelong close relationship with his parents, where his father would send over promo copies from England to Richard over in the States – only after going through them himself and picking out the winners.  One of them become a massive success after Richard broke them to a whole new unsuspecting audience in America.  These are just a few teasers, as i don't want to spoil too much.
Overall, World In My Eyes, is an eye opening, entertaining look at the life of someone who lived his dreams, loved music like the rest of us and become PART of the music scene himself with enduring real friendships with the musicians he adored with specific chapters detailing his personal relationships with Morrissey, George Michael, Michael Hutchence and Neil Tennant and Chris Lowe of Pet Shop Boys.
Most of us will never fulfill that dream but at least we can read about someone who did.
---
Support Strangeways Radio on Patreon.
---