Now here's a little story I've got to tell, about three bad brothers you know so well. But do you? Do you really know the Beastie Boys? When you think of Adrock, MCA and Mike D, what image do you have? Are they the hardcore punks who wrote songs about Carvel Ice cream? Are they the white rappers, who wrote juvenile lyrics about White Castles, girls doing their laundry and mom throwing away their porn? What about the band that put out a critically acclaimed comprised entirely of samples they found while digging through record crates? Or is it the band that learned bass, guitar and drums and began headlining worldwide festivals.
Beastie Boys Book is a weighty tome, weighing in at 3.5 lbs and 550 pages. The book offers amazing behind the scenes peeks at 3 buddies from Brooklyn that parlayed their love of music and their enduring friendship into a groundbreaking, genre-bending career. This is a great book to read in short bursts. Each chapter contains 2-3 pages about a particular encounter or event, penned by either Adam Horovitz or Michael Diamond. Sadly, Adam Yauch, aka MCA passed away from cancer in 2012. His past presence and current absence show a highly creative, intelligent and adventurous individual who was really the glue that kept boys together.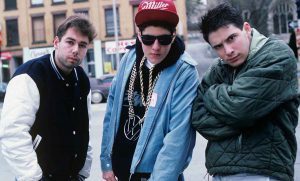 We get to read how the boys took a phony phone call they made to Carvel Ice Cream about their Cookie Puss ice cream cakes into their first club hit. Their debut LP, License To Ill was a worldwide smash but the band felt that the media and publicists shoved into personas that weren't really them. They didn't want to be known as beer swilling, misogynists with hydraulic penises as on stage props.
The boys wanted to grow up but record companies were not ready for the Jazz-Funk sample heavy Paul's Boutique and actually stopped promoting it. Undaunted the boys forged ahead with a record that to this day is often referred to as the Sgt Pepper of Hip Hop.
Never one to remain stagnant, they taught themselves to become musicians for their huge records Check Your Head and Ill Communication as the band found themselves onstage at the 1994 Lollapalooza Festival, just the first of many appearances. They also became well respected visionaries for videos like Sabotage and Intergalactic.
Outside the music, the Beastie Boys were generous in the friendships. Beside their lifelong bond with each other, they carved out real friendships with contemporaries like Run DMC, A Tribe Called Quest and their idol, Lee "Scratch" Perry. Their generosity was on display in how they treated their producers and DJs and in a great story, a 19 year old fan who introduced the Beastie Boys to the World Wide Web. Yauch in particular, grew more and more enlightened in his views towards women:
"I want to say a little something that's long overdue
The disrespect to women has got to be through
To all the mothers and the sisters and the wives and friends
I want to offer my love and respect to the end".
Yauch also travelled the world, taking up with Tibetan Monks and organizing massive Free Tibet festivals with some of Rock's biggest names.
The book is full of surprise little treasures like hand scratched lyrics, tons of promo photos and even a cookbook!
Beastie Boys Book is a must for Beastie Boys fans and a probably should for music fans with just a cursory knowledge of what the Beastie Boys brought to music and the world.
---
Support Strangeways Radio on Patreon.
---