If you've never heard of Whimsical, a shoegaze/dream pop band comprised of vocalist Krissy Vanderwoude and guitarist Neil Burkdoll, you may be new to the shoegaze genre or just not very active on shoegaze community social channels.
This duo, who met in high school, and have been best friends ever since, initially formed the band in the summer of 1999. They have put out two albums of original music over the past two decades. In between the first and second albums, they released "Brought To Light," which was a collection of covers, live versions and a few unreleased songs; and "Brought To Light Volume 2," which was more of the same.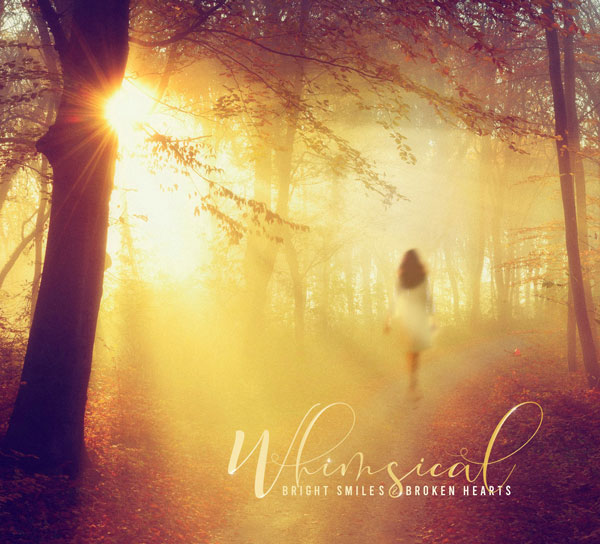 On Nov. 5, the band is releasing its third full album called "Bright Smiles & Broken Hearts," which is the fruit of three years of work, fitting in recording around jobs, children, and life's other demands. With neither Burkdoll nor Vanderwoude still living in the town they grew up in, the pair have had to develop a system for creating music while living in different states. Burkdoll is now in Florida, and Vanderwoude in still in Indiana but in a different town.
The new album features a total of nine songs, all of which are in digital and CD versions that will be released on Bandcamp. The vinyl, which is available as a preorder until Oct. 28, had room for only eight, so "Last Dance" will not be on the record, but you get the digital version with any music purchase.
Unlike the previous two albums, which were released by a label, Whimsical chose to go the self-release route this time around, which puts on the pressure to pre-sell enough copies to have the vinyl happen. If the quota is not met by October 28, there will be no vinyl. The link to order vinyl is at qrates.com/projects/19091.
The first single, "I Always Dream of You," was released on September 30 and a remix of that song by shoegaze space rockers The Daysleepers came out on October 11 and is currently available as a free download on Bandcamp. The second single, "Earth Angel," is scheduled for release Oct. 21, and will mark that last big push for vinyl preorder sales.
For lyric lovers, they will find the overlying theme of this album holds true to its name "Bright Smiles & Broken Hearts." As Vanderwoude explains, "The title of the album refers to the fact that sometimes the people with the brightest smiles are carrying the most broken hearts. This is true of myself and many people I know."
What you also can count on is that the lyrics come straight from the heart and reflect either personal experiences of the vocalist or those around her. "It's impossible for me to sing about something random like spaceships," she says. "It has to be something I can connect to."
"If it's not personal, it comes from a daydream or an experience I'm seeing someone else go through. All of my lyrics are about matters of the heart. Everyone can connect to human emotions, and this album covers everything from love to heartbreak. In the past, I've had people reach out and thank me for lyrics that they can relate to. Not everyone pays attention to the words in a song, but for me, it's important that I am always writing from a human emotional perspective," she explains.
I Always Dream Of You music video
I always dream of you

There you are again, in my daydreams
You're in my dreams at nighttime too
Whether my eyes are closed or open
I still see you
I see you in all I do
I always dream of you

You're like the sunbeams
Your smile warms me through
So even when I can't be near you
I can always dream of you
And then I feel you're with me too
Remember dreams come true

Close your eyes
Try to meet me there
We can fly so high
In this atmosphere
Of love
(Repeat)

I always dream of you
Be my dream come true
I always dream of you
Be my dream come true

I always dream of you
Full Album Teaser
Watch the official album teaser and consider leaving a comment if you like what you hear.
Whimsical on social media
Author
This article was submitted by Deborah Sexton
---
Support Strangeways Radio on Patreon.
---