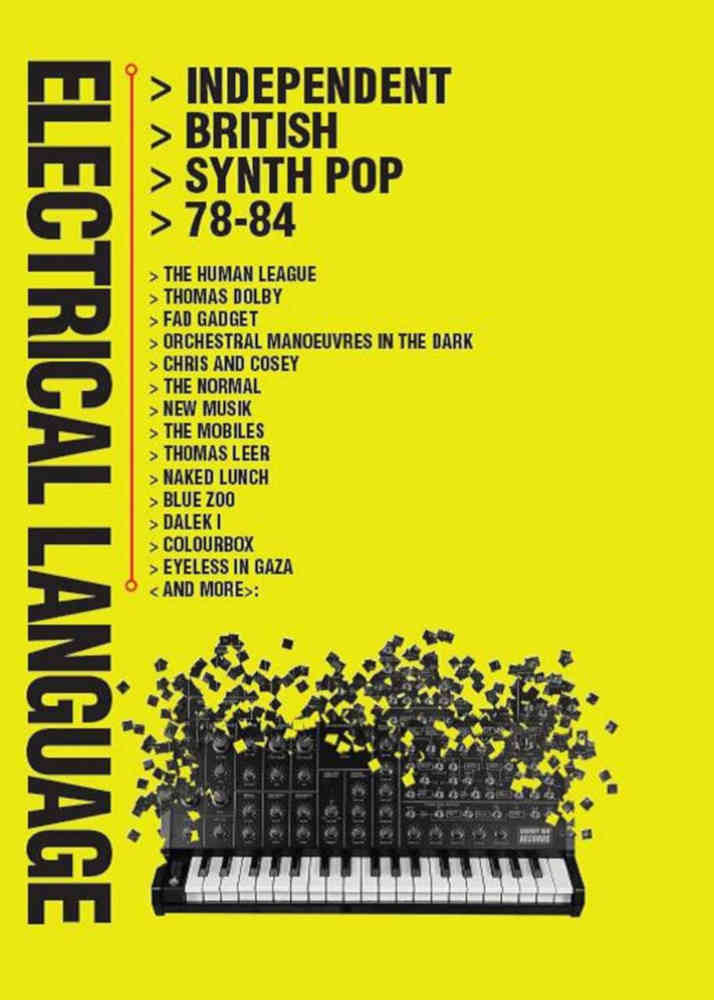 Cherry Red Records is putting out a 4CD 80 track set that celebrates the independent side of the UK's post punk synthpop boom that took place between 1978 and 1984. The collection is called Electrical Language and it also comes with a booklet featuring the sleeve notes from many of the recordings and words from the artists themselves. The collection includes several household names such as OMD, The Normal , Human League, Thomas Dolby and Fad Gadget in addition to underground artists from the era.
This collection also contains some hidden gems from Mute Records, Rough Trade, 4AD, Survival Records and of course, Cherry Red. Cherry Red Records say this about the collection
A broad church from the outset, this synth-pop movement wasted no time in embracing players from all corners of the musical dressing up box. From guitar groups drafting in a keyboard playing friend and the progressive rockers using their expensive banks of electronics in new ways to the modernists and the Thatcherists, full of unabashed aspiration, and the punks – arguably the purest punks of them all – who discarded the guitar and the drum kit overnight in their pursuit of something fresh that their generation could truly call their own. All were welcome, and all contributed to the many different directions synth-pop would mutate in over the coming five or six years.
 
'Electrical Language' captures this time and place in microscopic detail. The uptempo would-be hits with suburban nightclub aspirations, the science and technology enthralled proto-techno workouts and the otherworldy experiments are all here, sitting comfortably amongst each other in some cases, jostling for position in others. This was a post-punk revolution of another kind, played out on a stage free of the traditional boundaries and limitations, entirely alien to anybody over twenty-five and enthralled by the new and the exotic. For the first time in a while, the future looked bright, albeit illuminated with electric light.



Track Listing
DISC ONE
WINDPOWER – Thomas Dolby
SCIENCE FICTION – Alan Burnham
WARM LEATHERETTE – The Normal
STAY WITH ME TONIGHT – Alex Fergusson
TARANTULA – Colourbox
FANTASY – 100% Manmade Fibre
BANDWAGON TANGO – Testcard F
ELECTRICAL LANGUAGE – Be-Bop Deluxe
THE WORLD – Dalek I
HONOUR AMONG THIEVES – Chain Of Command
RED FRAME/WHITE LIGHT –
Orchestral Manoeuvres In The Dark
RED CASTLES – The Legendary Pink Dots
LIFES ILLUSION – Ice The Falling Rain
THE HUMAN FACTOR – Music For Pleasure
SHE'S AN IMAGE – Poeme Electronique
I'M THINKING OF YOU NOW – Box Of Toys
THE PLANET DOESN'T MIND – New Musik
HOPE DEEP INSIDE – Schleimer K
THE DISTANCE FROM KÖLN – Native Europe
TECHNICAL MIRACLE – Voice Of Authority
DISC TWO
CIRCUS OF DEATH – The Human League
XOYO – The Passage
CROWDS – A Popular History Of Signs
OCTOBER (LOVE SONG) – Chris And Cosey
FEEL SO YOUNG – Laugh Clown Laugh
CROATIA – Basking Sharks
MR NOBODY – Thomas Leer
RICKY'S HAND – Fad Gadget
HYPNOTIC RHYTHM – Local Boy Makes Good
DROWNING IN BERLIN – The Mobiles
EVEN NOW – Edward Ka-Spel
LYING NEXT TO YOU – Passion Polka
RABIES – Naked Lunch
DO IT – The Limit
WORK SONG – Robert Calvert
BABY WON'T PHONE – Quadrascope
IT HAPPENED THEN – Electronic Ensemble
IN THE MORNING – Jeanette
NIGHTLIFE – Those Attractive Magnets
MY COO CA CHOO – Beasts In Cages
DISC THREE
YOUR LOVE IS LIKE A SLUG – The Bodhi-Beat Poets
VEIL LIKE CALM – Eyeless In Gaza
DESTITUTION – Camera Obscura
GOOD TIMES – Drinking Electricity
HAPPY FAMILIES – Zoo Boutique
FEELS LIKE WINTER AGAIN – Fiat Lux
FALLING DOWNSTAIRS – Colin Potter
OUR LITTLE GIRL – David Harrow
IT NEVER RAINS IN OUTER SPACE – Futurhythm
ZENNOR – Goat
VIDEOMATIC – Final Program
TADDY UP – Pink Industry
YOU DON'T LOOK THE SAME – Play
CHILDREN OF THE REVOLUTION – The Fast Set
TRACE OF RED – Two
LYING HERE – Shox
DAYTIME ASSASSINS – The Builders
BEATING HEART (12″ VERSION) – Section 25
ABSENT FRIENDS – Joe Crow
JAMAICA DAY – Faction
DISC FOUR
GENERATOR (LASERBEAM) – Tim Blake
TOUCH – Lori And The Chameleons
THE SECRET AFFAIR – Jupiter Red
I'M YOUR MAN – Blue Zoo
EVEN ROSES HAVE THORNS – Jesus Couldn't Drum
PAINT IT BLACK – Techno Pop
CHASE THE DRAGON – Kevin Harrison
OTHER PASSENGERS – Thirteen At Midnight
YOUR VOICE – Freeze Frame
STAY WITH YOU – Time In Motion
LIVE WIRES KILL – The Toy Shop
SURFACE TENSION – Analysis
TIME – Paul Haig
CONTEMPLATION – Solid Space
COMMITTED TO VINYL – Martin O'Cuthbert
LOOK DON'T TOUCH – Science
THE WISHING TREE (MEGATREE MIX) – Charlie's Brother
WORKING MODEL – The Quarks
THERE'S SOMEONE FOLLOWING ME – Eddie & Sunshine
HAPPY XMAS (WAR IS OVER) – Hybrid Kids