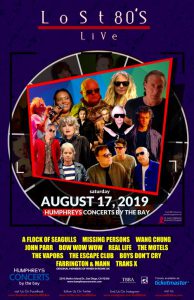 The 2019 Lost 80's line up has been announced and it lives up to it's name. This years line up consists mostly of one hit wonder 80's bands, coupled with a few 3-4 hit wonders. Among the artists on this years tour are Boy's Don't Cry, A Flock Of Seagulls, Farrington + Mann (original members of When In Rome), Trans-X, Missing Persons, Animotion, The Motels, Christopher Anton (Information Society), Dramarama, The Flirts and Wang Chung. Also appearing in some cities are John Parr, Real Life, Tommy Tutone and The Vapors. Several of the bands are returning from last year. We had the luxury of attending the Detroit show last year and we can tell you that Wang Chung and Flock Of Seagulls were memorable performances! One of the highlights of the show was a limited edition Flock Of Seagulls bobblehead!!
If this sounds like a lot of bands to you for a single concert, or you are wondering exactly how many songs Boy's Don't Cry might play…don't worry. Most of the bands play only 3-4 songs and then the headliners play a bit longer. On top of that, the time between bands is really short so the whole evening flows very nicely and the concerts are a great way to get nostalgic with friends and hear songs that you never thought you would hear live. Last year, I almost had a tear in my eye as I never thought I would see When In Rome's – The Promise live.
| Date | City | Venue |
| --- | --- | --- |
| 08/02/2019 | Coney Island, NY | The Ford Amphitheatre |
| 08/03/2019 | Peachtree, GA | The Fredrick Brown, Jr Amphitheatre |
| 08/09/2019 | Detroit, MI | Aretha Franklin Amphitheatre |
| 08/10/2019 | Denver, CO | Fiddler's Green Amphitheatre |
| 08/17/2019 | San Diego, CA | Humphrey's Concerts By The Bay |
| 08/22/2019 | Houston, TX | The Arena Theatre |
| 08/23/2019 | Lake Charles, LA | Golden Nugget Lake Charles Hotel and Casino |
| 08/24/2019 | Grand Prairie, TX | The Theatre at Grand Prairie |
| 08/30/2019 | Santa Ynez, CA | Chumash Casino Resort |
| 08/31/2019 | Saratoga, CA | The Mountain Winery |
| 09/01/2019 | Lincoln, CA | Thunder Valley Casino – Outside Amphitheatre |
| 09/06/2019 | Los Angeles, CA | The Greek Theatre |
| 09/07/2019 | Las Vegas, NV | The Downtown Las Vegas Event Center |
---
Support Strangeways Radio on Patreon.
---