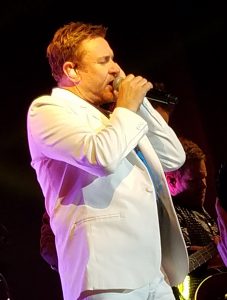 Duran Duran saved my life. In 1993, I was a thirteen-year-old handicapped girl with few friends. I had heard of the Fab Five; as a young child in the 1980s, they were ubiquitous on early cable television thanks to MTV and on the radio, but while I always knew their music and loved it, I didn't fully realize what it was capable of until their "comeback" with the single "Ordinary World". It came along – "where is my friend when I need you most….gone away" – at a crucial moment in my life as a developing person, as someone who had suffered losses that had broken me down to my core, and suddenly this band meant everything to me.
It wouldn't be until 1999's "Let It Flow" tour that I'd finally see them for the first time live, and even later (2005's "Astronaut" tour, with its original lineup) until I'd meet the band members in person. But I have carried in my heart an intense love for Duran Duran since they unknowingly saved me from ending my life prematurely for more than twenty years, and so it was with great excitement and anticipation that I accepted an opportunity to see the band perform two consecutive nights in New Orleans, Louisiana, at the new Fillmore venue at Harrah's Casino this past week.
Duran Duran has always been a band that embraces the current time period, honing their music and fashion to both keep their reputation as one of the 1980s' most famous and popular New Wave groups and prove themselves as artists who understand that while "styles change, style doesn't" – and that they can both appeal to nostalgia and inspire the innovative. Their current lineup, which is fronted by exuberant vocalist Simon Le Bon, boasts original members Nick Rhodes (keyboards), John Taylor (bass) and Roger Taylor (drums), but it also finds room for talented guitarist Dominic Brown and accentuates its live presence with the lovely backup singers and dancers, Erin Stevenson and Anna Ross.
Duran Duran are healers and entertainers; their craft goes far beyond music and proves that, even forty-one years later, their magic extends through generations. In New Orleans, people of all ages came to see the spectacle of their set, and as they wove through both classic hits and newer tracks, they proved yet again that there is a lot of life left in the Duran Duran musical lexicon, and that they are purely dedicated to real connection with their fans.
All photos courtesy of: Popfolio - Photography by Jenifoto
The set lists for both nights at NOLA's Fillmore venue on February 19-20 varied only slightly, but both shows featured the boys (and their fabulous backup gals) in top form, as they featured songs from more than ten of their albums, seamlessly transitioning from classic tracks like "New Religion" and "The Wild Boys" to newer songs like "Tempted" and "Pressure Off" – the latter of which was capped by a burst of pastel confetti from cannons placed at either end of the stage, creating a vortex of joy and color to celebrate the endurance of this fabulous band throughout their decades of recording and performance.
During both nights, Duran Duran – a group of British New Romantics in their fifties and sixties – lit up the Big Easy with their energy, their humor, and their talent. I stood near the stage during each concert, loving this band that had gotten me – and, I suspect, many others in the Fillmore – through so many difficult times in my life, and my love for them grew with each little quirk of John Taylor's nervous smile, every silly Simon Le Bon non sequitur, every smooth move from Dom Brown. "Ordinary World" – the song that, so many years ago, had captured my young heart and cemented my adoration for these artists – is a somber and beautiful ode to survival, and as the band performed it there in New Orleans, I was reminded in a visceral way why this band has endured for such a long time, through so many challenges and changes. Duran Duran themselves are survivors, and they pass along their torch to each generation that will hear them and love them for what they are. One understands, when faced with the Fab Five in all their iterations, that this is a band that strives to live forever. Their music stands the test of time, and will always, regardless of their future plans.
I have owed a personal debt to the music of Duran Duran throughout the years, and I know I am not the only one.  As they move on into the future, continuing to prove their status as icons in the worlds of music, video, and fashion, I wish them every success. Their concerts in New Orleans were testaments to their resilience, their brilliance, and the sheer power that resides within their music.
Setlist – Feb 19 Show
Choir Intro
New Religion
The Wild Boys
Hungry Like the Wolf
Come Undone
Notorious
Pressure Off
I Don't Want Your Love
Ordinary World
The Seventh Stranger
Tempted
White Lines (Don't Don't Do It)
(Grandmaster Melle Mel cover)
Girls on FilmEncore:
Friends of Mine
A View to a Kill
Rio
---
Support Strangeways Radio on Patreon.
---